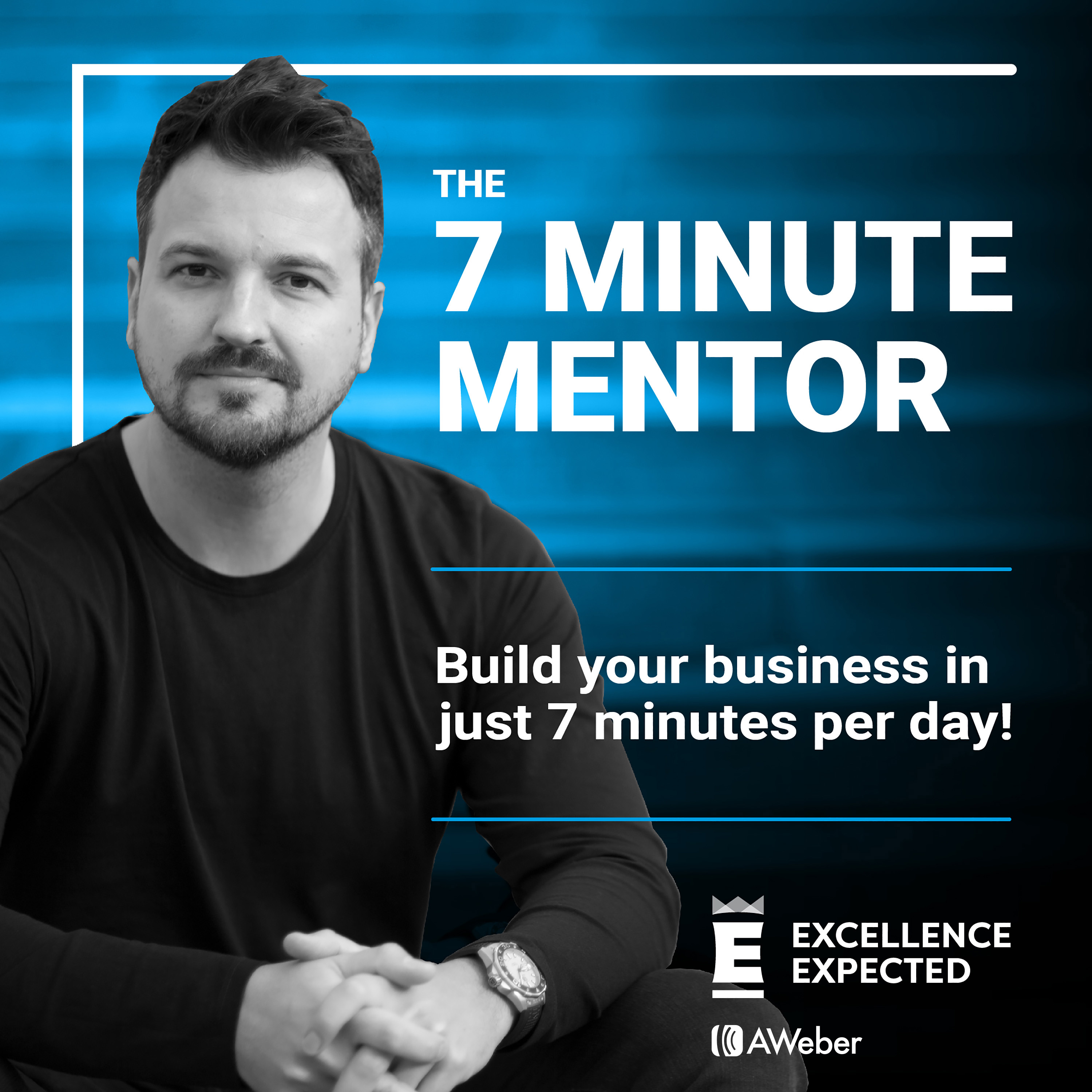 Hey, how are you today? Happy, happy Halloween. That's right, Halloween is upon us. We don't quite celebrate it here in the UK, or certainly don't get into it quite as much as the United States, but wherever you are in the world, please have wonderful day, stay safe, be careful, enjoy time with your kids trick or treating, dressing up, putting the house together, having such wonderful time. Please, please, please enjoy yourselves but please stay safe, but a happy Halloween to you.
Now today, I'm going to wrap up this month's worth of The 7 Minute Mentor content, where we talked about being a marketing founder, a founder who has got a good base level of marketing. We're just going to quickly recap the month but hey, before I do that, I want to just give you a bit of a heads up that this Friday I'll be live from Harvard campus in Cambridge, Massachusetts, delivering not only my free coaching, but I'm going to be speaking up there on the art of audio influence. So please, come and join me on my free coaching session, 30 minutes direct from me to you, coaching you on the biggest issues that you'll have in your business. I want you to be there and join me on the session. 4:00 p.m. UK, 11:00 a.m. Eastern, 8:00 a.m. Pacific. Come along and let's just crush that biggest issue that you're having. All right? You can register for that session, get all the information that you want at excellence-expected.com/freecoaching.
Also, my friends at AWeber are also giving you 90 days of their email marketing platform for free. Now I know what you're thinking, "Mark, look, I've already got an email marketing platform. I've already got a small list somewhere else." Now what about if that list was bigger? What if you were actually making money from it? What about if you were generating revenue from it? That what the team at Aweber exist to do. If you can honestly answer the question, "I'm happy with what I'm making from my email list." Then don't do anything, but I can guarantee you that you want more from it. That's what I wanted when I joined AWeber and they've helped me to achieve that and they can do the very, very same for you. So please go and try them out, all right? Go and check them out at excellence-expected.com/aweber and it's completely risk free for 90 days, all right? Please go check it out.
Okay, so this month has been an interesting month. We've talked about my belief in why you as a founder, as the founder of your business, should be a good quality marketer. Because in the early days, you are going to have to do a lot of it yourself. So I just want to quickly just recap what we've talked about this month, just to give you a bit of an index of what we've gone through. Starting at the beginning of the month, we talked about why you need to be a marketer, what does that even mean and why do I need to do this as a founder? Then we started to talk, in episode 506, about your value ladder. What is a value ladder and why is it vital? Before we moved on in 507 to revisiting trip wires through the lens of being a marketer.
508, we talked about defining your one constant presence promise, which similar to me, I've got my free coaching on a Friday, I promise to always be present there for you. You can guarantee that I will be there. Then I recommended Content Machine and Content Mavericks for you on episode 509, as two marketing books that will change your life.
The following week, starting on 510, we talked about strategic, tactical, or some other types of marketing and understanding what the difference is between those. Next, we dispelled some myths about what the marketing mix is and why it is so important. What is the marketing mix? It's a little bit random, sounds a little bit like jargon, but really it's just a mix of all the different channels and tactics that you use, that work together hand in hand to build your business.
Then we dug deep on 512 about what marketing is really. It's just a way of generating the conditions of a sale. 513, we talked about what metrics you need to measure and then 514 we talked about how do you choose the right marketing partners? Before moving on 515 and 516 into marketing strategy versus tactics and researching your competitors, two very, very important things.
517, we talked about why consistency is queen, king, prince and the whole bloody kingdom. Why you have to be present, why you can't give up after a month, why you have to hammer this marketing. Then we moved on in 518 to some of my essential tools. The simple things, I don't want you to be spending a shit ton of money on crap that you don't need and falling for these. "It's only 37 bucks, this month only, down from 1,200 for the latest marketing silver bullet software." It's all a load of bollocks, or 90% of it is a load of bollocks, all right? You don't need that. I told you my essential tools.
Next, 519, we talked about adding a personal touch using Bonjoro. Before you even get started with your marketing, build personality in, prior to 520 where we talked about smart objectives. Specific, measurable, agreed upon or attainable, realizing and time-bound objectives for your marketing which we then rolled into 521, how to set your marketing campaign goals versus your overall strategic marketing goals.
We then talked about two sets of analyses that you need to do in your business, your pest, your external analyses, your external analyses, your political economical, social and technological analyses, followed by your internal analyses of strengths, weaknesses, opportunities and threats. Also known as a SWAT analysis.
523, we talked about understanding what a marketing campaign is versus a marketing strategy. Strategy is the overall view of your strategic objectives, it's the overall picture of your landscape, the marketing landscape within your industry and where your business sits right now and where it wants to sit within that landscape. Followed by your marketing campaigns, which are the time-bound battles that you fight in order to hit your strategic goals.
Then we wrapped up last week, 524, with how to develop your first marketing strategy and if you want those examples from that episode hit me up, mark@excellence-expected.com. Then the last two sessions, 525 and 526, we talked about how to choose your marketing campaign channels, how do you choose whether to use Facebook or Twitter or work that together with your email marketing or some direct mail perhaps?
Then yesterday on 526, we talked about campaign messaging, how you parlay your message. How you make people feel and why it is so vital. Our job in all marketing remember, is to create the conditions for a sale and that all starts with feeling. So it's vital that you become a solid marketing in your own right. It's going to help allow you to make better decisions when it comes to your marketing, it's going to save you money in the early days, but more importantly, it's going to give you a basis to build from and I'll be here to help, all right? Let me know what you need, you've got my details, mark@excellence-expected.com and I'll see you tomorrow on the 1st of November. Happy Halloween and never forget, the more you expect from yourself, the more you will excel.