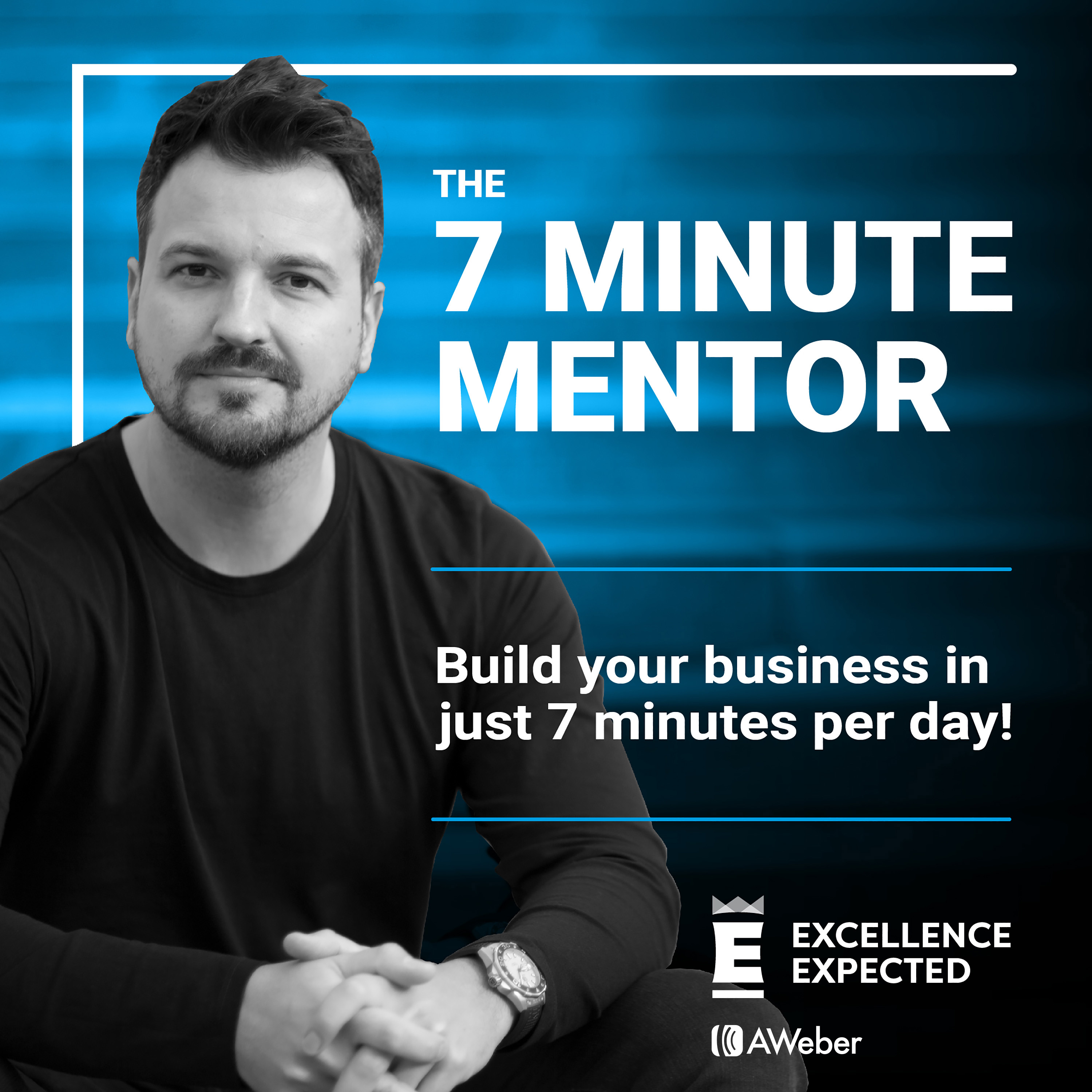 Hey, what's going on? Welcome to episode 530 of The Seven Minute Mentor, with me, Mark Asquith.
Now, first of all I want to just give a big shout out to everyone at Harvard University for pulling off such an amazing event at the Sound Education Conference. Big thank you to Kurt who moderated the entire session that we did and was just such a wonderful facilitator and Zach Davis for putting on such a wonderful event. Welcome to everyone at Harvard University. I'm still out in Boston right now just working, doing my thing, and just having a bit of a good time out here and getting to see this wonderful city. A big thank you to everyone that came and that joined in on such a wonderful session that we did out there.
Now, today, I'm going to talk about understanding your own buying behavior to develop your content market and in particular, I'm going to talk you through my buying journey. When I bought a new TV and you'll be thinking to yourself, "Mark, why are you telling us that?" And the reason is simple. I want you to understand how and why I bought based on content marketing. So, I'm going to do that in just one minute.
But hey, before I do that, just a quick reminder. I'm going to be live on Friday with my free coaching session. That's right, 4:00 p.m., U.K., 11 a.m., eastern, 8:00 a.m., pacific. I'll be back from Massachusetts. They'll be no behind the scenes at Harvard like we did last week, but what there will be is me back to that wonderful Q&A sessions that we do. So please come along and get your biggest issues defined, challenged, and conquered. Whatever you're struggling with in business, I will pick that up. So, come along to the session at excellence-expected.com/freecoaching.
Also, look. I'm still here in Boston right and even though I'm here in Boston, everything back at home base is still running. I'm still making sales, I'm getting notifications on my phone right now that sales are coming in, and all of our members are onboarded and welcomed to our platforms, and all of that is being run without me being there. I'm still making and generating that revenue even though I'm not there.
The reason I'm telling you that is because it's AWeber doing its thing. Alright? AWeber is email marketing platform of choice, and without it I wouldn't be able to do half of the things that I do. I wouldn't be able to generate half of the revenue that I do. It runs a lot of the kind of on board and the welcome work that we do with the platforms, but it also generates a lot of income through email marketing, through sent out campaigns, and if you're not in the position where you can wake up on a morning and find sale notifications on your telephone from PayPal or Stripe, you need to be thinking about that. You need to be kicking that up a gear alright. Go ahead and get started with AWeber. You can do that actually for free for 90 days. Go and do that at excellence-expected.com/aweber.
Okay, look, buying habits have changed over the last 10, 15 years. People just don't buy how they used to buy. They don't. I want to take a look now at how I purchased a new TV about a year ago to help you understand how you can develop a killer content marketing plan. Now, just to recap this, we know that content marketing and marketing in specific terms is intended to create the conditions of a sale. Marketing and content marketing are intended to create the conditions of a sale. However, one of the biggest assumptions, and one of the biggest mistakes that most new marketers make, especially in content marketing, is that all content should be focused around sales. Okay? And that's simply not the case, because when you hit someone with content, when you see that actually content is relevant to someone, you've got to understand that they just simply might not be ready to buy. They might have just bought a new TV, and they're not ready to buy one for another three years.
Content marketing and marketing in general is all about you becoming the only viable option when they are ready to buy. And sure, we can tease them through. We can tip them over the edge and push them into actually thinking about a sale, but look, it's not often the case that you'll send someone some marketing or they'll see your content and be ready to buy straight away. We know that it requires nine touch points or so to even start to trust you. Okay? Why would someone buy from day one. It's simply doesn't work like that.
When I bought my new TV, I went through a process of deciding I wanted a new TV, because I'd renovated my living room, and I thought that a new TV would be nice. I knew that I wanted to wall mount it. I measured out my wall and decided that I wanted a 54 inch TV because that would give me seven or eight inch either side, and it wouldn't look cluttered, and it would be a really nice big screen.
I started googling 50-inch TVs, and I started researching. And then I started googling LCD or LED or someone else, plasma, old school. Then I started reading content and watching articles. And then I thought how do I hang this thing, so I started googling how to hang a 50 inch TV. The best bracket, the load bearing required on this bracket. Then I started googling the best cables to use, the best connectors between an Xbox One S for 4K gaming, the best inbuilt apps, the best smart TV, the best refund policy, the best value, LG versus Sony versus Panasonic reviews. Who's got the best blacks on a TV? What's the most deepest contrast on a TV? All these questions. It was research. And I was narrowing my focus every time. I started broad with my searches, and then one search lead to another, and lead to another, and guess who I bought from?
I bought from a company called Currys here in the U.K., and the reason I bought from Currys was simple, that for every 10 searches that I made, there would be providing extreme value in seven or eight of these searches. They would be in the search, oh excuse me, top one, top two, top three results, or they'd have a YouTube tutorial on how to hang a TV. They didn't want anything back from that. They were just teaching me how to hang the TV. They didn't care whether I bought the bracket from them or from someone else. They were just teaching me what not to do, what to do.
When it came down to buying it, who were the experts? Who were the only viable option? Currys, because they were there. They were providing that Wikipedia-style content to me. They were the best in their industry at what they did. And it just so happened that they could sell the things that I needed. And I wasn't going into that ready to buy. I was researching do I even want a TV? Do I want to hang the thing or do I want to stand the thing? What brand do I want? But those guys were the experts. And that's what you have to do. You have to consider all of the questions that your prospect will have even before thinking that they might possibly buy from you. And you have to answer them, and you have to do so genuinely, without a sale. You've go to give them answers, and you have to be present with those answers, with that much content, that every time they search, you appear. Okay? Be the only viable option.
I'll see you tomorrow at team, and never forget the more you expect from yourself, the more you will excel.